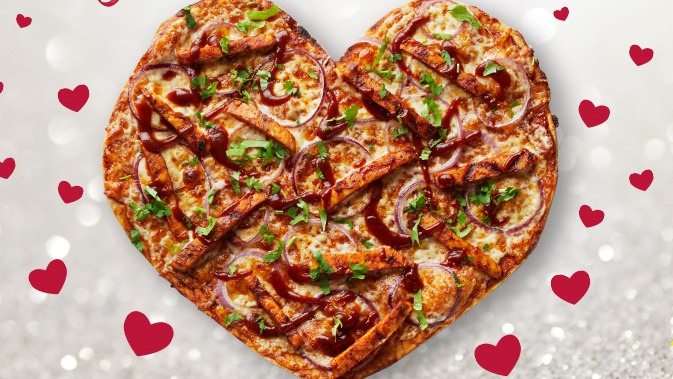 What to Know
Feb. 13-17

Order any pizza in the shape of a heart (crispy thin crust only)

No additional charge
Restaurant waitstaffs?
They're the absolute best ever. They're so hard-working, and congenial, and considerate, and they'll always run back for some lemon slices, or a side of ranch, when you ask for it.
We mean… just go and thank a server. Today. Right now. Done? Fab.
And if you request your meal in a bowl, when it usually arrives on a plate? Or that your beverage be served in a cup and not a glass?
No problem: Your server can ask Chef.
However, requesting that a pizza, which is, spoiler alert, typically round, arrive in a different shape, is an order of the tallest variety. After all, pizza pans are often circular, as rule, and we're not even going to waste another "spoiler alert" on that assertion, because we all know it.
But California Pizza Kitchen is changing that all up, from Feb. 13 through 17, 2019. The dates are the clue: It's happening over Valentine's Day.
And the fact that people often fashion at-home pizzas into the shape of hearts is another big, blinking clue.
Which is all leading to this: If you ask your CPK server for a heart-shaped pizza, on those dates, you'll get one.
And that's any pizza on the menu, as long as you go with the "crispy thin crust."
The charge for going heart-shaped? There is none; it's a freebie, and a nice one, too. You'll pay for your pizza, of course, but the add-on is gratis.
Getting it on a takeout order? That's fine, as is, of course, dine-in requests, too. But don't ask for it via a third-party delivery service, as it won't be available. (CPK's own delivery service is available at select locations.)
Thinking you've seen this before? The California-based pizza-and-more chain says this is a "first time ever" kind of promotion, so revel in that, lovers of hearts and pizzas.
Of course, after asking your server for your heart-shaped pizza, show some heart, and tip your server well. As, surely, you always do.