What to Know
People ages 8 to 89 years old are getting cuts, bruises, broken bones and worse, researchers say.

A first-of-its-kind study shows 249 people were hurt, most while riding an e-scooter, others were walking on sidewalks.

Understanding the type of injuries that could come from e-scooters is important to set rules on how to ride them, researchers say.
Electric scooters are a great way to get around, and are potentially dangerous, according to a researcher who looked at injuries connected to e-scooters. People ages 8 to 89 are getting cuts, bruises, broken bones and worse, researchers say.
Understanding the type of injuries that could come from e-scooters is important to set rules on how to ride them, they say.
Stewart Toubia says he was left with cuts on his knee and hand while riding an e-scooter on a downtown Los Angeles corner last month.
"We need to recognize that this is a potential public health issue," says Charles Liu, a UCLA research fellow and part of a unique study that reviewed injury records connected to electric scooters from two local emergency rooms over the course of a year. "Folks are definitely getting injured."
Bird Electric Scooters Could Soon Be Extinct in Santa Monica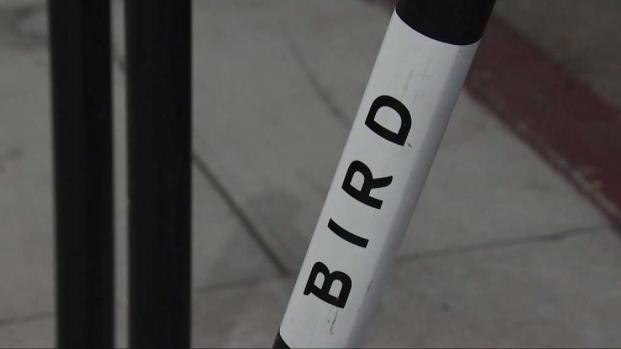 Three in 10 people had some kind of fractures and some kind of broken bones, he says. What is believed to be a first-of-its-kind study shows 249 people were hurt, most while riding an e-scooter, others were walking on sidewalks. Nearly 11 percent of patients younger than 18 years old and only 4 percent of riders were documented to be wearing a helmet. The most common injuries were fractures, head injuries, and soft-tissue injuries, according to the study.
"Injuries associated with electric scooter use were common, ranged in severity, and suggest low rates of adherence to existing regulations around rider age and low rates of helmet use," the study says.
Liu says most of the people who went to the ER were able to go home, but about 6 percent of people actually had to be admitted to the hospital. About one percent went to the intensive care units.
E-scooter companies such as Lime and Bird says it appreciated the look into this "environmentally-friendly mode of transportation," but calls the report limited, saying "…It fails to take into account the sheer number of e-scooter trips take — the number of injuries reported would amount to a fraction of one percent of the total number of e-scooter rides…"
Lime says they are involved with increased safety initiatives, including creating a new generation of their scooters providing $1 million in liability insurance with each ride. Both say they are working with local government agencies to increase safety measures.
"They can be really convenient. They can be really fun," Liu says.
A Day Without a Scooter Has Come to Santa Monica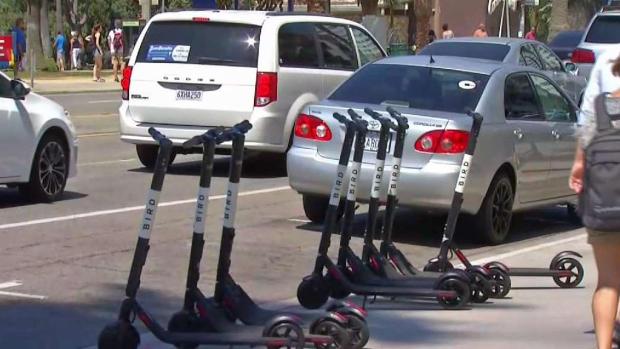 Liu says the research isn't about getting rid of the growing trend. "Just like we require seat belts for cars and helmets for kids to ride bikes, we need to have rules that make sense around these too," he said.
The city of LA is looking at this and other research as it creates new rules for e-scooters. The city's Department of Transportation says seven companies have applied for year-long permits, including Bird and Lime, after e-scooters were legally allowed in the city late last year.
"We are currently monitoring dockless bike/scooter usage in the city," the department said in a statement. This includes trip distances and lengths, destinations, parking and vehicle availability, the statement said.  
Each company will have up to 3,000 e-scooters or e-bikes on the road and perhaps more, if they are in disadvantaged areas.
And, they will be tracked.
Toubia says he will be more careful when hopping on one of these. "I will get back on … just don't know when," he says.
Protests in Santa Monica Over Electric Scooters
The study says most of the injured were people not wearing helmets. State law just changed to not require helmets if you are over 18.
LA County Supervisor Kathryn Barger's office says promoting helmet use, which many companies already do, will be part of any county plans.
For more information about Lime's safety, click here.
Lime's full statement:
"At Lime, the safety of our riders and the community is our number one priority. That's why every day we're innovating on technology, infrastructure and education to set the standard for micromobility safety. Lime has recently led several safety initiatives, including:
Bird Asks Riders for Support at Santa Monica City Hall
The launch of the Lime Gen 3 scooter with enhanced safety features, including upgraded wheels, better suspension, additional braking and improved balance.
Global leader protecting each ride with $1 million in liability insurance.
Investing more than $3 million in our Respect the Ride campaign to educate riders about safety and responsible riding.
250,000 free helmets distributed to riders across the globe.
First of its kind Safety Brand Ambassador Program to educate riders on safety.
Dedicated Customer Support and Trust, Education and Safety teams available to riders 24/7.
Convenors of an industry-wide Education and Safety Summit on micromobility.
"We're also working with local governments around the world to support infrastructure for shared scooters and bikes. It's clear consumers want micromobility infrastructure too; 52.2% of Lime riders ranked a protected bike lane as their number one choice for riding. We believe continued government investment in protected bike lanes and paths is critical. Lime supports the AMA's recommendations to further innovate helmet designs and for the industry to continue focusing on safety. The rapid adoption of micromobility across the U.S. and across the globe demonstrates that the future of transportation is clean, efficient and safe. We look forward to working with the industry, medical community and regulators to create a meaningful ecosystem for this new and evolving technology."
For more information about Bird's safety, click here.
Bird's full statement:
"Bird is committed to partnering with cities, organizations, and community members to safely and responsibly embrace e-scooters as an alternative to cars. We applaud those who thoughtfully and productively look into all aspects of the rise and impact of shared e-scooters as an environmentally-friendly mode of transportation. We hope to have the opportunity to work with the report's authors so that we can have a productive and collaborative conversation that focuses on proven preventative measures and education. In the case of this study, Bird did not have the opportunity to work with the study's authors or to collaborate with them, and we find the report to be very limited. While the report importantly highlights the parity in safety between bicycles and e-scooters, it fails to take into account the sheer number of e-scooter trips taken–the number of injuries reported would amount to a fraction of one percent of the total number of e-scooter rides. Moreover, the report fails to put e-scooter injuries into context as they relate to the high number and severity of injuries and deaths caused by motorcycles and automobiles." – Paul Steely White, director of safety policy and advocacy