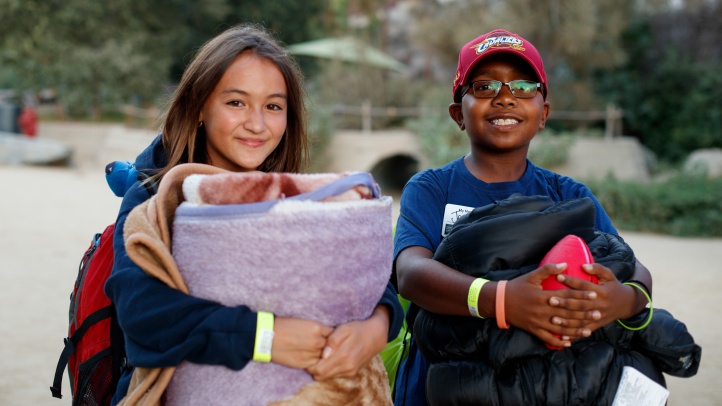 What to Know
$85 non-member; $75 member

Children ages 5 to 12, "(c)hildren must be accompanied by an adult (21+), with a ratio of 1 registered adult for every 4 children

Three dates announced: Feb. 22, May 31, June 21
So often a kid's dream, when they relay it to you, in animated fashion as they finish their bowl of cereal, involves wondrous animals and fantastical lands.
And, without fail, your kid describes being the star of their super-rad dream, but then… the alarm clock beeps.
But what if you and your nature-loving, world-curious tot could spend a night, as in an entire dream-filled, snooze-rich night, at a place where heaps of historical artifacts and dinosaur bones and spectacular dioramas are on display? 
No "what ifs" here, for the Natural History Museum now has a trio of sleepover events on its calendar, with the first up on Feb. 22, 2019. 
The theme of the February event is, can we get a "rrrrawr," "Dinosaurs Highlights," but the May 31 and June 21 look super-cool, too. ("Bugs and Butterflies" and "Antarctic Dinosaurs" are the themes, respectively.)
It is, truly, a night at the museum, but there's lots to do before the sleeping bags are unrolled.
You'll be able to check out museum exhibits after it officially closes, oh yeah. Plus there are "… 3D movies, themed crafts, activities, (a) scavenger hunt" and more to look forward to, including "special performances."
Will there be an evening snack? Rrrrawr. And a continental breakfast, too, after all of the sleepoverers rise 'n shine? We'll say it again, emphatically: rrrrawr.
There's plenty to know, before securing your spot, but here are a few of the major asterisks:
This is open to kids between the ages of 5 to 12, and an adult must accompany each child (that adult should be over 21). 
There's a limit of four kids to one adult, so, yep. That's good to know.
Also, you're probably curious where the actual sleepover will happen. Wait for it, because this is may make you want to grunt like a moose or roar like a jaguar: Attendees will go night-night in the Mr. and Mrs. Samuel Oschin and Family Hall of African Mammals and the North American Mammal Hall.
Neato. Wait, scratch that: It's beyond neato. It leaves neato in the dust.
So will those iconic dioramas swirl through your kid's dreams that night? 
It seems like that could happen. But, far more exciting than that, are the memories your child will hold onto, recollections of spending an actual, honest-to-bison night inside the Natural History Museum.
The cost for a non-member is $85, parking is $12 per car, and there's plenty go over, in the FAQ and policies, so peruse everything now, with the diligence of a dinosaur looking for its dinner.