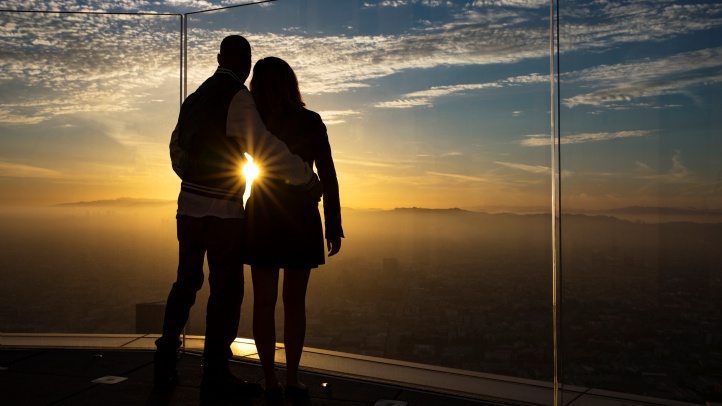 What to Know
OUE SkySpace LA

Through Sunday, Feb. 17

Toast from the Top package is $50
Give the AM dial a spin, then land on any station rocking the classic love songs.
What you're sure to hear? A line-up of the same words, over and over: up, higher, sky, clouds, sunshine, air.
Romance, in short, has a way of elevating us, or at least the popular culture we've loved for decades. It's a nice notion that's settled into our shared ether, but finding a way to actually go up, up, up in the name of love, without boarding an airplane or hot air balloon, is rather harder than any song might suggest.
Unless, of course, you live in the same city as OUE Skyspace LA.
Heading up to the clouds, sky, and even seemingly closer to the universe ("universe" also being a balladeer's favorite) is rather easier when you're enjoying the outside deck at the tippy-top of a 73-story skyscraper.
To accompany your co-cuddler to the clouds, you only need book the "Toast from the Top" package, a Valentine's-vivacious offering priced at $50.
Also good? It's available through Sunday, Feb. 17, if you already have plans on Valentine's Day. (Which is Feb. 14, a gentle reminder you surely do not require.)
Also good? Two tickets to Skyspace, two glasses of bubbly, some chocolate-covered strawberries, and a spin down the celebrated Skyslide are part of the package.
Also good? If you should want to upgrade to an entire bottle of sparkling libation-y goodness, that's possible, for an additional fee.
What's not possible is to not have a memorable lovey-dovey diversion, one you'll talk about for years. For if you both brave-up and ride the outdoor slide, the one that is 73 stories above downtown Los Angeles, you both will be living what so many love songs recommend of lovers.
That is, you'll be flying through the sky, sort of, for a moment, on a surface connected to a building, but that's just the sort of activity an emotion-filled ballad would suggest you do.
All of the details? Slide this way, wooers of Southern California, for one of our region's most sky-close routes to view-appreciating and cloud-close canoodling.