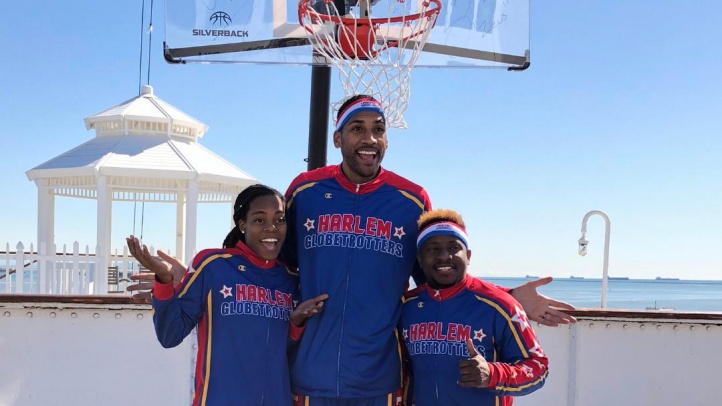 What to Know
Harlem Globetrotters

Long Beach

Feb. 15
Which icon has been around longer: The Harlem Globetrotters or the Queen Mary?
The answer is A), the amazing group of athletes that have been astounding audiences with incredible trick shots, sublime on-the-court skills, and perfect comedic timing since 1926.
The fabled ship, which has called Long Beach home for over 51 years, got its start in Scotland, with a launch date that came about a decade after the Globetrotters began.
Still?
Both the Globetrotters organization and the Queen Mary are beloved and notably venerable, making for a dream pair-up that feels utterly historic.
Especially as the enormous ocean-liner provides so many spots where basketballs may be deftly thrown over railings into baskets placed far, far, and we do mean FAR below.
Which is just what happened when Champ Thompson, Zeus McClurkin, and Too Tall Hall called upon the ship during the team's Southern California stop-over. 
There's video of the visit, too, which happened just before Valentine's Day, showing the trio of athletes making shots that flat-out astound.
Take a moment to visualize just how big the Queen Mary is, then imagine a basketball traveling up, down, and around its decks.
It's all so fun, so wowza, and totally Globetrotter-tastic.
Check out the video now, and see the Harlem Globetrotters as they visit Walter Pyramid at Long Beach State University on Friday, Feb. 15.