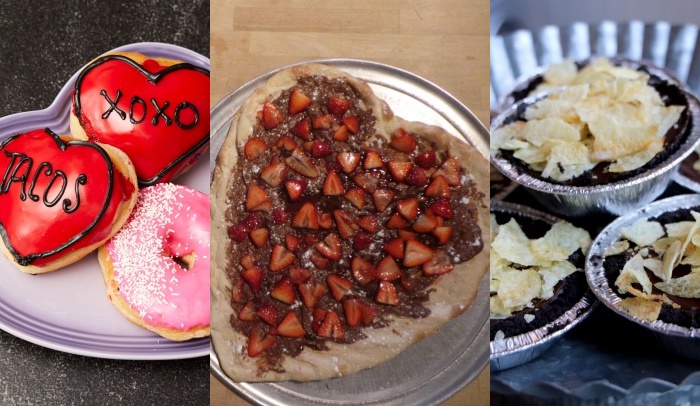 What to Know
Lonely Pie at The Pie Hole locations

Free onion rings with purchase at Figueroa Philly on Feb. 15

Heart-shaped Nutella pizza at Joe's Pizza and heart-shaped pizzas at CPKs
Sipping the sad shake, digging into a plate of paramour pasta, or cooking up a batch of so-in-love snickerdoodles?
Valentine's Day is among the most euphemistic of holidays, on just about every level, but definitely when it comes to our hankerings and dine-out adventures. 
For while boxes of chocolates and elegant suppers may take precedence, at least in terms of pop culture, a lot of people choose their chow choices based on whether they're going to be eating lonely pie, or not, on Feb. 14.
The thing is, you really can eat Lonely Pie, here in Southern California, and you can find a few other lively vittles and the occasional deal, too, when Valentine's Day grows near. 
So what's on the menu? You can find your…
Lonely Pie… at all of The Pie Hole locations. The boutique dessert-maker brought the popular pie back for Valentine's, so best swing by for a mini Lonely Pie, through Feb. 17. What's Lonely Pie, anyway? Chocolate ganache, sweetened peanut butter, and a topping of potato chips are headlining ingredients.
Free onion rings, with purchase, is the Singles Awareness Day deal at Figueroa Philly. That day? It's Friday, Feb. 15, so best wait for that day to score this savory pile o' ring-based noshery. "Put a ring on it" is the vibe here, though onion rings are a good freebie on every holiday, we do think.
Pop hearts, which are hand pies filled with various delicious fillings, are on the roster at Cake Monkey Bakery, for $3.95 a pop. Do pop hearts arrive in the shape of a heart? It's in their very name, so yep. Can you choose among brown sugar cinnamon, blueberry crumble, cranberry, apple, and chocolate almond? Yep again. Is it good to have your own hand pie? Everyone knows the answer to that.
A heart-shaped pizza? It depends if you'd like it as a confection, something gooey and dessert-tastic, or as the main part of your meal. Joe's Pizza is going with a Nutella Strawberry pie, in a heart shape, for $18 (there's a pick-up code, Cupid15, if you want to save %15). The participating locations? Hollywood, West Hollywood, and DTLA. And at California Pizza Kitchen? You can request any crispy thin crust to arrive looking like a heart, for no additional fee, through Feb. 17.
A heart-shaped doughnut… with the word TACOS written on it? And covered in bright red Valentine's-y frosting, too? We mean, stop right there and end what you're doing. This might be the ultimate expression of affection, should you proffer one of these beauties to your sweetheart. Find it, and other themed doughnuts, at Trejo's Coffee and Donuts. Yep, there's a doughnut with BESOS on it, too, making it the smoochiest sweet treat in town.