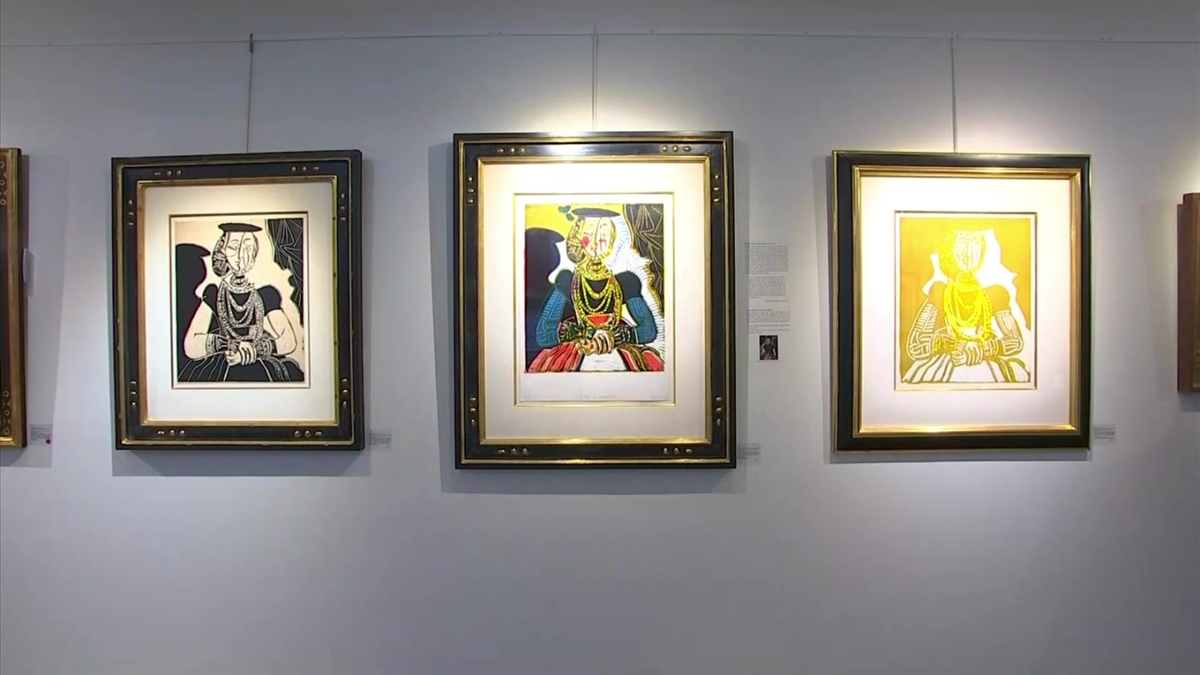 What to Know
"Picasso in Color" opened to the public on February 16, and is open until mid-March. It is the largest Picasso exhibition in the U.S.

Tickets are $10 for adults and 45 for students.

The exhibit is open from 10 a.m. to 7 p.m. Monday through Saturday, and from 11 a.m. to 5 p.m. on Sunday.
Sixty original works by Pablo Picasso were unveiled to the public on Saturday for the "Picasso in Color" exhibition at Galerie Michael in Beverly Hills.
This is the largest Picasso exhibition of graphic works ever to be presented in the United States…and they're all available for purchase.
Included in the collection are 35 pieces that were discovered in a locked safe in the South of France in mid-to-late 2018 and have never been displayed.
Since most of Picasso's original paintings are too expensive for purchase -"Le Reve" sold for $155 million in 2013 – the exhibition is strictly limited to graphics. This consists of linoleum cuts, etchings, lithographs, drawing and aquatints, which makes them relatively cheaper. Prices range from anywhere between $4,000 and $1.5 million.
"The only way a mortal today could own a Picasso is through the graphic medium," said Michael Schwartz, the owner and president of Galerie Michael. "You can actually acquire work of that level here."
Celebrating 40 years, Galerie Michael is the oldest and only fine art gallery on Rodeo Drive. It spent 18 months building the collection, which uniquely focuses on Picasso's colored graphics.
"They were so technically complex that it was nearly impossible the printers to achieve the levels of genius and creativity and technical prowess that Picasso had created," Schwartz said. "It is the most unique exhibition of its kind ever to come to the United States, certainly California."
The opening of "Picasso in Color" featured a speech by art historian Eric Merlot, whose grandfather worked with Picasso on many of the pieces on display.
Eleven of the pieces were already bought during the gallery's private, VIP gala on Friday night.
One of the highest-valued graphics, a linoleum print of Picasso's wife, Jacqueline, was sold to Gary Oakland, a Housing Developer from Billings, Montana. This piece had never been publicly shown before the gallery. It was known to exist, however, because re-prints were available – all of which Oakland owned before completing his collection on Friday.
"In the tradition of art, the color works of a graphics artist are always very valuable," said Schwartz. "In the case of Picasso, the black and whites are the ones that have sold for millions of dollars."
Pieces that are purchased must remain in the exhibit until its closes in March.
Other notable works on display include Picasso's first graphic, "The Frugal Repast" and his first linoleum cut, "Series of Portrait de Jeune Fille, d'apres Cranach le Jeune II."
"Picasso in color" is open from 10 a.m. to 7 p.m. Monday through Saturday, and from 11 a.m. to 5 p.m. on Sunday.
Gallery Michael is located on 224 North Rodeo Drive in Beverly Hills. Tickets are $10 for adults and $5 for students.