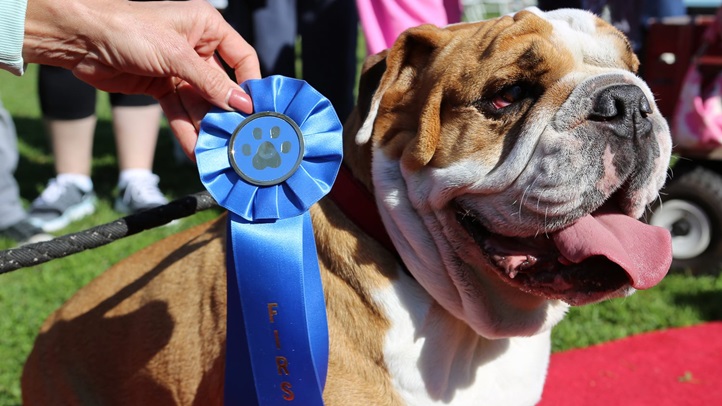 What to Know
Sunday, Feb. 10

Marine Stadium in Long Beach

$10 to enter a dog; spectators can watch for free
Dogs of all breeds and sizes and ages share many characteristics, of course, as any pooch fan will testify.
Pups often leap when a Frisbee is overhead, and they run when they hear the can opener, and they dash to the door when anyone is outside.
But Bulldogs?
They don't leap so much as trundle or galumph, and while some hounds may give straight-up smooches, these stout sweethearts snort and stomp and make quite the affectionate fuss when cuddling with a human.
In short: Bulldogs stand proudly in their own spotlight, in several winningly unique ways, and throwing them their very own party feels as right as a snarfly kiss.
That party, at least 'round Marine Stadium in Long Beach, arrives around Valentine's Day each year, courtesy of the team that helms the Haute Dog parades.
And while there'll be several Bulldogs to admire at the Bulldog Beauty Pageant, the day is also about all the pups we love.
That's where the National Mutt Show comes in, the other adorable event on the Feb. 10 schedule. It's a chance to show the world your tail-wagger's best qualities, meaning that, for ten bucks, you can enter your favorite furry dude or dudess to compete for Best Ears, Best Smile, and Best Tail.
There are more National Mutt Show categories than a Bulldog has snarfles to give, which is saying something, so best eye them all before heading to Long Beach.
And, yep, your ten bucks covers as many categories as you'd like to enter. And that money? It ultimately helps out rescue efforts and pups in need.
Call it a Valentine to both our English Bulldog buddies, and all dogs, and people ready to have some community-sweet fun ahead of the love-iest day of the year (and after all the rain).
Spectating? That's totally free, arf arf. Which makes a pup-obsessed person feel as snarfly as a Bulldog bestowing a raft of messy and joyful kisses to someone's face.