President Donald Trump is likely to sign the bipartisan agreement that would keep the government open and avoid a new partial shutdown without including the $5.7 billion he's been seeking in border wall funding, three sources familiar with the president's thinking tell NBC News.
The sources include two Republicans who have spoken with the president and an administration official close to the process. They noted that nothing is set in stone and that the legislative text has not been finalized.
The deal includes nearly $1.4 billion for 55 miles of border fencing built with existing technology and another $1.7 billion for other Homeland Security priorities like more customs personnel and new technology, multiple sources have told NBC News.
On Tuesday, Trump said he was "extremely unhappy" with the deal and vowed to build the wall anyway. A White House officials had earlier told NBC News that other options remained on the table to build a more substantial barrier.
Shutdown Deal Offers No Money for Concrete Wall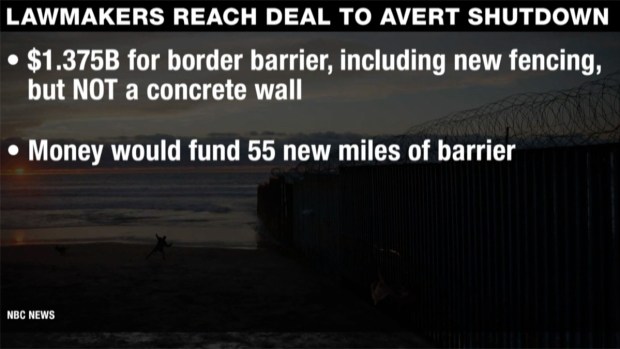 Republicans have said they hoped Trump would sign the deal.